HORIZONTAL WATER TANKS - HORIZONTAL TANKS
Horizontal water tanks are water and liquid material storage tanks made of stainless metals and oval shape parallel to the ground.
Horizontal warehouses are horizontally placed warehouse systems made of stainless steel material. These warehouses are generally used to store food, medicine, chemicals and similar materials. Due to the use of stainless steel materials, contamination or deterioration of the substances inside the tanks is prevented. In addition, due to the use of stainless steel material, the tanks are resistant to corrosion and suitable for long-term use.
Usage Areas of Stainless Tanks
Stainless Water Tanks
Stainless Transfer Tanks
Fermentation Boats
Milk Tanks
Juice Tanks
Chemical Tanks
Olive Oil Tanks
Chocolate Tanks
Diesel Tanks
Pharmaceutical Tanks
HORIZONTAL TANK DIMENSIONS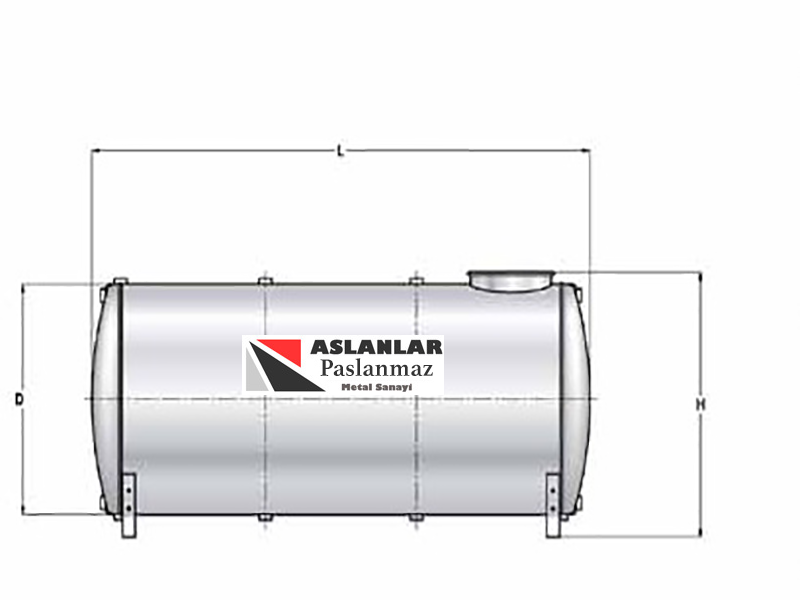 Stainless tanks and tanks differ in size according to their tonnage.
water tank dimensions
500 Liter Horizontal Stainless Warehouse Dimensions
Diameter 75mm
Height 110 mm
Sheet Thickness 1.5 mm
1 Ton Horizontal Stainless Warehouse Dimensions
Diameter 920mm
Height 1500 mm
Sheet Thickness 1.5 mm
Stainless Horizontal Warehouse 2 Tons
Diameter 1200mm
Height 1700 mm
Sheet Thickness 1.5 mm
Stainless Horizontal Warehouse 3 Tons
Diameter 1350mm
Length 2000mm
Sheet Thickness 1.5 mm
Stainless Horizontal Warehouse 4 Tons
Diameter 1420mm
Length 2500 mm
Sheet Thickness 1.5 mm
Stainless Horizontal Warehouse 5 Tons
Diameter 1520mm
Height 2700 mm
Sheet Thickness 1.5 mm
Stainless Horizontal Warehouse 6 Tons
Diameter 1750mm
Length 2500 mm
Sheet Thickness 2 mm
Stainless Horizontal Warehouse 7 Tons
Diameter 1800mm
Length 2750 mm
Sheet Thickness 2 mm
Stainless Horizontal Warehouse 8 Tons
Diameter 1920mm
Length 2500 mm
Sheet Thickness 2 mm
Stainless Horizontal Warehouse 9 Tons
Diameter 1900mm
Height 3000 mm
Sheet Thickness 2 mm
Stainless Horizontal Warehouse 10 Tons
Diameter 1920mm
Height 3500 mm
Sheet Thickness 2 mm
Stainless Horizontal Warehouse 15 Tons
Diameter 1920mm
Length 4750 mm
Sheet Thickness 2 mm
Stainless Horizontal Warehouse 20 Tons
Diameter 2350 mm
Height 4700 mm
Sheet Thickness 3 mm
Stainless Horizontal Warehouse 25 Tons
Diameter 2600mm
Height 4700 mm
Sheet Thickness 3 mm
Stainless Horizontal Warehouse 30 Tons
Diameter 2850 mm
Height 4700 mm
Sheet Thickness 3 mm